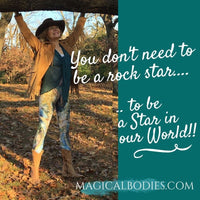 Inspired by Art - for You!
What are your favorite colors? And what colors can you add to your wardrobe?
A simple addition, such as a pair of our leggings, scarves or art shirts, can cheer you up and make a joyful statement.
What makes our designs so artful and unique? An original painting is the source for your garments. Art by Bettina Madini is behind our collections. Are you ready to go on an epic journey that inspires a magical and beautiful future for you? With us, you can wear nature... it's sort of magical.
And, on top of that, you can check out Bettina's paintings HERE.
Dive In
Testimonials
These leggings are not only beautiful but also well made and comfortable. Love mine!

June, Madison, USA
"Your collection is truly magical and I'm so glad, grateful, and fortunate to be able to treat myself to some of your art work. You've always been an inspiration to me, and continue to be, and I can't wait to wear that gorgeous piece of magic!"

Natasha, New York
My Drape arrived today and it is beyond anything I imagined!
Thank you! Much Love! 

Jill, South Carolina, USA
The art sweatshirt arrived today. I absolutely love it! It is not only beautiful but soft and comfy. Your beautiful art makes my heart sing, and now I get to wear it and to share it with everyone I see today. Thank you so much!!!!

Sandi, Madison, USA
Artistic t-shirt is Great. Nice price too! (Forest Dreams Art Shirt)

Vicki, USA